Spoiler: There is no single best landing page builder!
But…
Luckily, there will be one best landing page software that is the best one for your situation.
So keep your eyes open for my 5-step flowchart to choosing the right landing page software for you.
Anyway, within this 10.000+ word comparison you'll find the following topics discussed:
(Tip: You can use the links below to quickly skip to the most important part for you)
😳Oops, sorry for that long list, but let's dive right into my comparison of the six most popular landing page software.
Comparison of 6 Most Used Landing Page Builders [table]
This table compares the best landingpage builders. I discuss these and other landing page builders below. (Prices below are for yearly subscriptions. Monthly subscriptions are ±10% more expensive.)
Landing Page Software
Starting Price
Best for you, if:
Unique features
Leadpages
$27 / month
… If you want an affordable, premium landing page software, but don't want to spend that much on Instapage or Unbounce, for their finishing touches.
– Leadlinks (Auto-sign-up subscribers in one click)
– Pop-ups & Alertbars to be built within pagebuilder
Carrd
Free up to $19 / year (!)
… If you want a free landing page builder or you're building a personal site or a simple MVP, but note: Carrd doesn't have many features.
– It's FREE
– Possible to build landing pages from your phone
Unbounce
$72 / month
… If you want premium landing page software & have in-house designers who need more flexibility than Leadpages can offer.
– Smart Traffic (their AI that automatically directs your traffic to your landing page with the highest chance of converting)
– Unbounce has built Unsplash, and grants free access to all those stock photos for its users.
Instapage
$199 / month
… If you're an agency or corporate & taking landing pages very seriously. It is expensive, but generally speaking, anybody will rate Instapage as the best landing page builder (Ease of Use, Design-wise, and Feature-wise), sadly their pricing is just so high, that I would not justify such prices for just landing pages.
– Real-Time Collaboration
– Dynamic Text Replacement (Unbounce also has this in their 2nd tier)
Elementor
Free – $49 / year (!)
… If you are not afraid of WordPress and might want much more freedom to expand your landingpages into full websites – ideal landing page builder for startups.
– Freemium version
– Native WordPress builder
– Also build full website
ClickFunnels
$97 / month
… If you're looking for an all-in-one sales funnel builder incl. email and integrations (in addition to your landing pages). Perfect to build a full business, but not suitable as an addition to your marketing toolkit.
– Actionetics (Drag-and-drop email funnels build within Clickfunnels)
– But not much more, since ClickFunnels is a generalist tool.
Comparison Table for Best Landing Page Builders 2023
4-Step Flowchart for Picking The Best Landing Page Builder Software for You
Unbelievable how much time such a flowchart can cost 😳
Best Landing Page Builder Software
Below I've made a list of the best landing page builder software in 2023.
I've looked at:
Features – Some tools have unique features that others don't, which really put them apart.
Ease of Use – (Although I do feel like every landing page builder in 2023 has a perfectly fine interface for any marketer / "non-techie" to work with.)
Pricing – Some of these have a pretty weird pricing
Limitations – Each software has its own limitations (like the number of landing pages or monthly visitors, or for example they don't work together with WordPress or other CMS)
Let's dive right in! 🚀
🏆 – Best Affordable Landing Page Builder
I would describe Leadpages as the best AND affordable landing page builder. Unbounce and Instapage are the best if we're looking at features, but since they have a pretty high pricing point I do prefer to advise people to choose for Leadpages.
Leadpages offers an almost-as-good user experience of the landing page builder itself and has almost every features that Instapage and Unbounce have, but only ask one-third of the price and have no limits on the number of pages, visitors or team members.
So, to sum it up: Leadpages misses a few features, but has also adjusted its pricing to it and compensates with unlimited everything.
Perfect match for you, if…
Leadpages is perfect for you if you want a premium landing page builder software, but don't want to pay the hefty prices of the top dogs and want to be unlimited in your work.
You should be aware that Leadpages misses a few fancy features, but not any that you would really miss. Think about it: Do you really need AMP-pages, Dynamic Text Replacement or Real-Time Collaboration? Or can you still work with regular-fast load speed, manual text replacement, and semi real-time commenting?
And don't get me wrong: Leadpages is a really competitive landing page software company, because they do have some unique features of their own, like LeadLinks and Alertbars, but those features will be discussed a little later. 😉
Pricing Plans – Starting at $27
Leadpages may be slightly less perfect than its uber-premium competitors Unbounce and Instapage, but they're also ready to adjust their prices that way. You'll see that Leadpages starts at $27/month while their competitors only start at $72 or $199.
Also, you should notice that all Leadpages plans offer unlimited everything. So you don't have to be scared to run out of landing pages or monthly allowed visitors.
Leadpages has four plans:
Standard Plan for $27 / month

Pro Plan for $59 / month
Advanced Plan for $239 / month
Honestly, I wouldn't recommend their Pro Plan for $59 per month (even though Leadpages named it their "Most Popular" plan, which we all know is a marketing trick). You already have everything you would really need in your Standard Plan for half of the money.
Unless…
… You want to A/B-test, which is only offered in their Pro Plan or up. I understand that A/B-testing is nice to have, but, as a startup / small company, you could work around this by creating two identical ads and send them to two different landing pages.
For those of you who are taking landing pages that seriously that you really want to be A/B-testing all the time, I think you won't mind the extra money for the Pro Plan and should take it.
Next to the Standard and Pro Plan, which will be right for 90% of you, Leadpages also offers one extra plan: the Advanced Plan ($239/month).
Leadpages' Advanced Plan seems to be the best plan for marketing agencies, scale-ups and corporates (in other words, power-users of landing pages). It is more pricey at $239, but also offers extra sub-accounts and more advanced integrations (next to the standard/pro integrations through Zapier).
Unique Features of Leadpages
As said before, Leadpages is a near-to-premium landing page builder. They have almost every feature you need and the other landing page builders also offer, but there are a few things notable about Leadpages' features:
Leadpages does have a drag-and-drop landing page builder, but Leadpage works with a grid, versus the gridless landing page builders of Instapage and Unbounce, but this is really only a nice-to-have for designers who really want every bit of creative freedom.
Leadpages have created a few "Conversion Tools" on their own to help you improve your conversions:

Leaddigits™️ where you use SMS text messaging to make it easy for your audience to opt-in to receive a digital file or subscribe to your email list.
Leadlinks™️ where you offer existing subscribers easy subscribing by including one-click trigger links within your emails, which seamlessly sign users up to specified events or subscriber lists.
Alertbars™️ are bars on the top or bottom of your screen where you can tell about your latest offer. Mobile-friendly and unlimited in every plan.
(Exit-intent) Pop-ups which you can build from the landing page builder itself.
Conclusion: Leadpages should totally be seen as a premium landing page builder if you take the small UX details out of consideration.
Limitations of Leadpages
This is going to be a short paragraph, because…
Leadpages has no limits. On anything. They are the only landing page software that give unlimited conversions, unlimited visitors & unlimited landing pages, which is very different from the expensive Leadpages competitors in this list.
Well maybe on a few very specific items, like 10 Alertbars, 10 Opt-In Text Campaigns and 5 Sub Accounts, but those aren't the important specs like the number of landing pages or visitors, which are essential to your business.
👍 What I liked about Leadpages:
Unlimited amount of landing pages, visitors and leads. Even in their lowest tier pricing plan.
I liked the extra conversion-improving features Leaddigits, Leadlinks & Alertbars.
Their thorough and easily searchable template library.
Conversion guide, which is a simple AI-driven score that tells you how well your page will probably convert and ways to improve your page. Saved me a few stupid mistakes.

👎 What I didn't like about Leadpages:
As said, their landing pagebuilder is not completely gridless, which strips away some of my quirky creativity, but I also have to admit that it's easy to work around if you really want something in a specific position and most of you won't even need to colour outside the gridlines/think out of the (grid)box… Sorry for those puns. 🙈
A/B-testing is not possible in their Standard Plan so you'll have to upgrade to the middle Pro Plan for $59/month. I guess I could understand because it is a slightly advanced feature, but the other landing page creators do have it in their lowest plan…. even though those are priced at $80 or higher… okay maybe it is too much to ask for their cheapest plan.
My verdict on Leadpages
For almost any small to mid-sized company, I would advise Leadpages, because the price is only 1/8th of its competitors for getting almost exactly the same features in return. Oh.. and don't forget about unlimited everything.
I personally also advise taking their $27 Standard Plan instead of their $59 Pro Plan (even though Leadpages says it's their most popular plan), because you'll have pretty much everything you need to build great landing pages.
That was it for Leadpages. Now we'll move on to every hacky entrepreneurs' favorite landing page builder: Carrd.co!
🏆 Best FREE Landing Page Builder Software
Carrd.co is by far the newest landing page builder on the market and is actually built by just one person.
He wanted to start a little side-project and decided to build a free profile-site maker, but quickly realized that it could be a lot more.
Carrd launched on ProductHunt in 2016, where it became one of the most upvoted tools ever.
This way Carrd became much loved among startup-entrepreneurs and is seen as the easiest, free landing page builder software on the web.
I have to admit that Carrd shouldn't be compared to other feature-heavy landing page builders, like Instapage, Unbounce or Leadpages, since it is a one-man-show and isn't made to be a professional business solution.
But Carrd is a "match made in heaven" in for…
Perfect match for you, if…
Carrd is perfect for you, if you are starting out. Within a few minutes, you could have built a personal website, a simple blog, an online business card (hence the name) or a landing page.
Because Carrd is made to cost little money and little time to build a landing page, it is perfect for starting freelancers and entrepreneurs, when your website won't be the center of your whole business, like in ecommerce.
Carrd is not right for you, if you are looking for a professional landing page builder to improve the results of your paid marketing campaigns or to build a real business upon.
Don't get me wrong: You can create very professional-looking landing pages, but if you want to really make money, you should spend a little more money and get yourself those real landing page software features like data tracking, A/B testing and software integrations, which are not available (yet?) in Carrd.co.
Pricing Plans – Free
One thing that makes Carrd.co very attractive in this list is its pricing: it's free!
You don't even have to sign up to start building a landing page or a website.
In Carrd's free plan, you'll get an XXX.carrd.co domain and branding in the bottom (a discrete "Powered by Carrd"), but hey, that is fine if you want to build a simple one-page website as a resume or maybe a quick Minimum Viable Product for your 100th startup-idea.
To remove the branding and get a premium domain, you'd have to go Pro for only $9 per year.
And to start using features like simple forms, integrations and tracking, you'd have to pay $19 to $49 per year, which is still insanely cheap compared to any other landing page builder out there.
I mean, the cheapest landing page software on this list is Leadpages at $25/month (which is $300 per year). So, Carrd, at its most premium plan, is still 3x cheaper than its cheapest competitor.
But okay okay… I'll admit that you do get a lot less 'bang for your buck'. Speaking about it: let's have a look Carrd's features 👇
Unique Features of Carrd.co
As said before, Carrd is a very minimalistic landing page builder.
They have all the really fundamental features to call it a landing page builder, but it's far from being competitive on the "Features"-side.
But it may surprise you: Carrd does have some unique features that nobody else has!
First, as mentioned they have a fully free landingpage builder that doesn't even require you to sign up until you want to publish.
Secondly, Carrd is the only landing page builder software that lets you build landing pages from your phone. Which is nice for those on-the-road entrepreneurs and is one of its unique features which Carrd owes to its landing page builder's simplicity.
Limitations of Carrd
So this is the part where you'll see where Carrd is lacking from its competitors.
Carrd does have everything you need to build a simple landing page, but that's about it.
But Carrd lacks a few features that limit you and you would want to have in a professional landing page software, like heatmaps, analytics, A/B-testing, integrations with Zapier, etc. So just to say it one more time (to make sure I'm not responsible if you do make this mistake):
Carrd.co is not made for professional business usage!
On the other hand…
It is the best free landing page builder software for starting entrepreneurs and freelancers.
And now I want to talk about a few limitations that might be important to those people: Carrd's free plan gives you a Carrd-branded domain, which doesn't look very professional, and simple forms aren't available for the free or cheapest plans. But hey, it's only $19 per year to get all those features.
To sum it up: For now, Carrd will be enough for you if you're just starting out and need a simple landing page. Don't worry about these limits if it's basically free.
👍 What I liked about Carrd.co:
Carrd is made to be easy and fast, so you could build a full landing page within 5 minutes or less.
Carrd's onboarding is great: you'll get started directly with one of its fully customizable templates and you don't have to sign up to get started. So you can try it out without any investment or the hazard of spam for life.
All pages are automatically mobile-friendly so you don't have to worry about that.
You can edit your landing pages from your phone. I absolutely ❤️ this feature, because I'm always on the road and can find small tweaks which I just wanted to edit immediately.
Carrd is built by one person, which is awesome to read how he has done it. It gives me a real connection with their brand and also a safe feeling to know that there is no money-eating corporate behind it, that just wants to take more money from my pocket all the time.
👎 What I didn't like about Carrd.co:
I think if Carrd would add forms to its freemium plan, they would be 10x better as a landing page builder and their free plan could be really competitive with other landing page builder software, when looking at the target audience of starting entrepreneurs who want to build an MVP.
There is no 'blank'-template to start with. I understand that they have to keep things simple, but it would be just a little bit better for those creatives among us (even though I do think that the current templates are already beautifully designed).
I have to repeat it; Carrd.co misses a lot of professional features you should have as a business, so sadly it won't be good enough as a real business solution for building landing pages for paid ad campaigns.
My verdict on Carrd
I have to admit that Carrd has a special place in my heart as a tool-lover, who is impressed by the work of this one man.
It is a fantastic site/page builder for starting entrepreneurs and freelancers who have little to no money.
For businesses, it won't be enough to improve your Return On Ad Spend, but you have plenty of other options still left. After all, this was only number two on this list of best landing page builders.
But if you're looking for a super professional landing page builder, I'm sure you'll like the next option: Unbounce!
🏆 Best Landing Page Software in General
Unbounce is the best landing page builder software although Instapage (#4 in this list) took over that place until Instapage doubled their prices in 2019 to double that of Unbounce.
They were one of the first software companies focused on landing page builders, have all the best features, and have a widely loved brand among marketers and entrepreneurs.
Perfect match for you, if…
Unbounce is the best choice for you, if you want a premium landing page software & need maximum freedom in terms of a gridless page builder, for example when you have in-house designers to design your landing pages.
Unbounce is NOT the best choice for you, if you have a limited budget (Unbounce starts at $72) or are not a really intensive landing page user. Because if you don't really care about that gridless design, Leadpages is still a better choice, since they have pretty much all the same features & no limits on a maximum amount of visitors or conversions.
Pricing Plans – Starts at $72 / Month
Unbounce has 4 pricing plans (prices are displayed for yearly subscriptions & are ±10% higher if you take a monthly subscription):
Launch Plan – $72 / month
This plan is great to get your started to build amazing landing pages. The limits are a bit low at 20K visitors and 500 conversions (so be aware that if you want to run big campaigns that this might be a bit too low) & you miss a few features like AB testing, Dynamic Text Replacement & Smart Traffic.
Optimize Plan – $108 / month
In my honest opinion, I feel like this is the first plan that you should really consider if you're taking Unbounce, since this one has all the important features for serious landing pages (where their first plan still misses a few features) & you are less likely to run into their limitations.
Accelerate Plan – $180 / month
Same as Optimize plan, but just higher limits
Scale Plan – $270 / month
This plan is ideal for agencies and corporates who are taking landing pages very seriously. The pricing and limits can be custom-made and you'll get even more support in the form of a 1-on-1 success manager, training sessions for quick results and a full migration service in case you were using any of the other landing page builders on this page.
As you can read, only the first plan is limited in terms of features & after that it's just looking at what number of visitors & conversions you need.
If you're starting out, start with their Optimize Plan and if you do hit the limitations, upgrade.
If you need even higher limits, you can contact them for their Concierge Plan (but be prepared to pay!).
Unique Features of Unbounce
Unbounce does have two unique assets:
Unsplash is the biggest online stock photo library and was once started as a side-project by Unbounce. Nowadays, Unsplash is a company of its own, but Unbounce customers still benefit with unlimited use of Unsplash's stock photos within their landing pages.
Smart Traffic: This is their AI that calculates based on visitor characteristics which of your landing pages will have the highest chance of converting that visitor, e.g. a doctor clicking on your ad would be automatically redirected to your landing page about solutions for the medical services industry. They claim that it has a 30% higher conversion versus regular A/B testing.
Limitations of Unbounce
Unbounce was pretty much unlimited: with 500.000 monthly visitors for its starting plan, but has lowered their limits to 20K at the starting plan in 2020, since Instapage increased their prices anyway. Big bummer, and the main reason for me to direct most people to Leadpages if they don't want to run into such limitations.
If you're really serious about your paid ads & their landing pages, I would recommend Leadpages with unlimited everything, if you don't mind giving in on a bit of souplesse, or go for Instapages if you really want to keep the same gridless page builder experience.
👍 What I liked about Unbounce:
Amazing gridless drag-and-drop landing page builder.
Unbounce's support is amazing; they regularly. respond within 5 minutes, offer support by phone, email and live chat, and really ask questions to make sure they understand your problem correctly.
For corporates, they offer a lot of extra help, like training, 1-on-1 customer success manager and migration services.
👎 What I didn't like about Unbounce:
Their limitations. Previously they had much higher limits, but it seems like they want to push more and more power users into their congierge plan.
My verdict on Unbounce
Unbounce is the best landing page software in general. In my opinion, they deliver the best quality page builder & have great customer support. If they didn't have such fierce limitations I would have put them in first position.
Feel free to try their 14-day free trial or request a demo.
🏆 Best Landing Page Software for Corporates
Instapage is overall seen as the best landing page builder software on the web. Period.
Almost every credible tech reviewer puts Instapage on #1 as the best quality landing page software. (Just look at Capterra, G2, SoftwareAdvice and, heck, even Hubspot names Instapage the "leader in landing pages", even though they sell a landing page builder of their own!)
Why does everybody consider Instapage as the best landing page builder software?
Well, Instapage simply has every feature you can imagine, their page builder and dashboard are pixel-perfect and have the best 'ease of use'.
But they also have a downside…
Their pricing. Really 🤯 Starting at $199/month they are so expensive, that I can't really put them in the top #3, since most of you will get the same amount of value from the more affordable landing page builders above.
We'll talk more about the pricing later, but for now, let's have a look at the companies that'd have a perfect match with Instapage.
Perfect match for you, if…
Instapage is the best choice for you if paid advertising is your main acquisition channel and you use or want to start using landing pages to get more from your current ad spend.
As I said, Instapage is pretty pricey, so you should expect to pay some serious money for it. But if you're serious about your landing pages and paid marketing, you know that great landing page builder software has a high ROI and Instapage is widely known as the best landing page software.
Instapage is not the right choice if you don't have a big marketing budget, are not taking landing pages seriously that you really need such a heavy software or if you're looking for a page builder to use within your current CMS.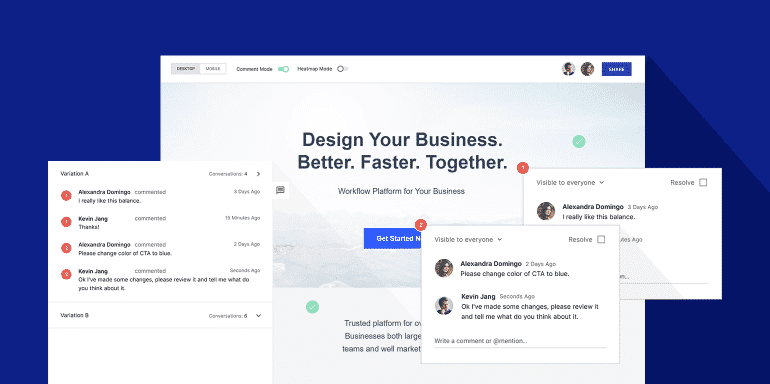 Pricing Plans – $199-Custom
The Instapage pricing isn't very hard to understand; I mean, they only have one real plan, or you have to upgrade to their custom Enterprise Plan.
Sadly their starting plan already costs $199 per month. And while they do have a 14-day free trial, $199 is a lot of money and there they are already one of the most expensive of all landing page software. And then I haven't even talked about its limits yet, which are pretty low compared to others.
On the other hand, they really are the best landing page builder and you could say that their pricing simply reflects that.
If you wanted to know: Their Enterprise Plan costs on average $2500 per month, so it's obviously aimed at bigger companies, but those companies do say that they wouldn't want to change their software when I spoke to several corporate Instapage users.
But despite Instapage's pricing, they're still one of the most used landing page builders in the world. So how do you know if Instapage is the right choice for you? I'll tell you now:
Limitations of Instapage
Instapage doesn't have limitations if we're talking about features. For a long time, they were outrun by Unbounce and their Dynamic Text Replacement, but since early 2018 Instapage even has that and there are no more features they don't have and others do.
On the other hand…
Looking at their Core Plan for $199, Instapage is limited to 30 published landingpages, 30.000 unique monthly visitors and only 3 team members. For a lot of you, this will be enough and it will be a good deal if you still want to use the best landing page builder, but if I compare Instapage to other tools this plan is pretty limited 🤷‍♂️. For example, Unbounce has 75 landing pages, 500.000 visitors and 30 team members for $80/month, and Leadpages even has unlimited everything for only $27/month.
And if you want more than the Core Plan offers, you'll have to upgrade to Instapage's Enterprise Plan where the price will increase in big steps.
To sum it up, Instapage is the best tool looking at quality, but looking at quantity, you are slightly limited in the Core Plan if you are building a big business, or you'll have to pay a lot of money. If you're a smaller to mid-sized company, who wants to use the, qualitatively speaking, best landing page builder, you won't notice the limitations.
Unique Features of Instapage
As I said before, Instapage has pretty much every features landing page software could have.
So I thought it would be more interesting to talk about the unique features Instapage has and almost nobody else does.
First, Instapage has Real-Time Collaboration, where you can make notes and see edits from your team members in real-time. They also offer Overwrite Protection, where you can limit certain people from overwriting final edits from others. Perfect if you'll have to work with several people on your landing pages.
Secondly, Instapage has Dynamic Text Replacement, which gives the possibility to make landing pages perfectly align with your ads and the customer's search term. This isn't a feature that is exclusive to Instapage. Unbounce also offers DTR, but since it's still such a rare feature, I mention it at both tools.
👍 What I liked about Instapage:
Instapage has a great pixel-perfect landing page builder environment, which is the best in this list if we're looking at 'Ease of Use'.
Instapage has conversion rate improving features like AMP-pages and 1-to-1 Ad Personalization.
Instapage offers 200+ templates, which are fully customizable and ready to go, and "Instablocks", which are pre-made landing page parts which you can save, to both help you build landing pages quicker.
For bigger companies, they have…

Global Blocks, saveable blocks where you can automatically edit that block among all your landing pages,
A personal Customer Success Manager, to help you get started, solve your problems and answer your questions,
and special Enterprise Plan features.

And of course, they also have all the basic features, which (almost) every landing page builder in this list has: A/B-testing, Multi-step forms, integrations with lots of tools (through Zapier), conversion tracking, mobile-responsive pages and confirmation pages.
👎 What I didn't like about Instapage:
You do have access to the Bigstock library of 33 million stock photos, but you do have to buy each stock image on its own. Opposed to Unbounce who gives you free stock photos.
Their starting plan is pretty limited compared to other landing page builder software. If you're a small to mid-sized company, you won't notice, but if you're going heavy on the landing pages, you'll have to upgrade to their Enterprise Plan, which is too expensive for most smaller companies.
Support: In my experience, it always took Instapage >2 hours to respond on their live chat and they offer only a few support channels, which I would have expected to be different for this price. Although, if you are an Enterprise user, they'll give you a personal account manager so I guess that will solve the problem.
What to do if you don't like these things and you're looking for the best Instapage alternative? I'll tell you below:
My verdict on Instapage
I won't make a secret of it, that Instapage is, to me, the best landing page builder on the web, but they are just too expensive for me to put them higher in this list.
They are especially great for bigger companies or agencies, or smaller-sized companies who won't need too many landing pages.
If you are a smaller company and do need a lot of landing pages or if you don't have the budget to pay these huge sums of money, I would advise looking at landing page software #3 in this list: Leadpages. They offer a slightly less quality page builder but are unlimited for only $25 per month.
🏆 Best Landing Page Builder for WordPress-users
Elementor is the best landing page builder for WordPress users. I personally use Elementor (on this site for example!) and it made it possible for me to easily build specific landing pages within my WordPress website.
I understand that this tool is not for everybody; maybe you don't currently use WordPress, maybe you need a landing page software separate from your website or maybe you already have a pagebuilder for your website.
Please keep reading, because Elementor is a great option: With over 2.5M active installs, over 3K five star reviews and one of the Top 15 WordPress plugins it is a real market leader.
Perfect match for you, if…
Elementor is the best choice for you, if you have a WordPress website and want to have a seamless page builder for all your pages and landing pages, which you can build/monitor from within your well-known WordPress dashboard. Best of all: it's a free plugin!
(You should know that Elementor is a WordPress plugin and works sitewide. It is not made to be used for a few landing pages only and might not be the best choice if you already have a website running, because it probably will affect your current pages.)
Pricing Plans – Starts for free up to $49 / Year
Elementor is already available in the WordPress plugin library for free. You only have to sign up for an account.
You can upgrade to Elementor's Pro Plan for $49 / year for one site, $99 / year for 3 sites or $199 / year for 1,000 sites. The Pro Plan gives you a lot of extra features, like extra widgets, dynamic content capabilities, design-oriented pop-up builder​ and options to edit your theme (header, footer, single blogposts and create templates).
The drag-and-drop page builder is already available in their free plan, which could make it good enough for you as a landing page builder.
But I personally think that Elementor offers enough extra value in their Pro Plan for a low cost that it is worth the money.
Unique Features of Elementor
Elementor is unique in this list as a build-in WordPress page builder and also their freemium plan makes them relatively unique.
In addition, they have a lot of features you won't find in other WordPress landing page software, like their build-in pop-up builder, the capability to edit the overarching theme and their WooCommerce builder.
I personally create the landing pages as separate WordPress pages and give them uniquely build headers and footers (build with Elementor) to give people no option to leave the page (Aren't we all guilty of this? 🙈). After that, it's just a matter of building the page which can be done from Elementor's visual drag-and-drop landing page builder.
Limitations of Elementor
Elementor gives you no limits on the number of pages or visitors, like most landing page software.
You do of course need to have a domain of your own with WordPress.
Ow, and you should keep in mind that it sometimes doesn't work perfectly together with other WordPress plugins you like. (Update: Elementor is continually doing its best on working together with all commonly-used plugins and themes. They update this so often that you don't really have to be worried about this since they serve over 2,5 million websites.)
👍 What I like about Elementor:
Gives you so so much freedom within WordPress, that you don't need a separate landing page software anymore.
Their knowledge library is absurd: There are so many people using Elementor that almost every problem/question online is being answered by either the community or Elementor's support team.
Dynamic Text Replacement is easily possible with an extra plugin
👎 What I didn't like about Elementor:
The landing pagebuilder are not gridless. If you want to create stunningly designed landing pages, you'll have to use the padding and margin tools. Therefore I wouldn't completely rate Elementor as non-techie-friendly. (On the other hand, there are a lot of self-taught website owners who use WordPress, so I guess it is not that hard to use.)
It's not made to be a landing page software. Therefore you'll miss those typical features like A/B-testing, conversion tracking and two-step forms.
My verdict on Elementor
Elementor is the best page builder for WordPress and, for the WordPress users among us, it should be considered as a real option to be your landing page builder, because of its freemium plan / cheap pricing and the proof that so many people already use it.
I use this to build this website and others, and it strips away the need for a separate landing page software.
🏆 Best Landing Page Builder for Salesfunnels
ClickFunnels is cofounded by Russell Brunson, an author and marketing expert on salesfunnels.
He has built Click Funnels to be perfect for building salesfunnels from A to Z. Everything you need is within this tool: sending and automating email, building visual funnels with downloads and building conversion-focused landing pages.
This tool is mostly used to build full websites, so I personally wouldn't advise it to be used by companies who already have a solid website and need landing pages for specific marketing campaigns. (If this isn't applicable to you, you could better skip this part on ClickFunnels and go have a look at the lesser-known landing page builders.)
Let's dive into the nitty-gritty details 🤓
Perfect match for you, if…
ClickFunnels is the best choice for you, if you are going to build a full website and you are already focused on building landing pages with the aim of building a salesfunnel.
ClickFunnels is NOT the best choice for you, if you are a marketer at a company where you already have a working website and you should need a separate landing page creator software. (Also I personally feel that ClickFunnels might be a bit too sales-y for mature companies who are aware of their branding.)
Pricing Plans – Starts at $97 / Month
ClickFunnels isn't very open about their pricing on their website. You won't even find a link to their pricing on their home page, but if you google it, you'll find this page:
Immediately when you read this page you notice two things:
Their $97-plan isn't enough to build full sales funnels since they don't offer email or payment options.
There are very low limits on the number of visitors. At only 20.000 visitors over 100 pages, they have the lowest limit of all landing page builder software in this list with only 200 visitors per page per month.
You have to pay extra fees to ClickFunnels for every sale you make through these landing pages.
Conclusion: Their $97 plan is not good enough for serious entrepreneurs and you'll have to move over to their "Etison Suite" package for $297/mth.
The Etison Suite does offer a lot of features, but for that price you can buy the same for less money if you combine for example Leadpages ($25) + ActiveCampaign ($23) for emails + maybe $10 for hosting + Zapier ($20) to automate it all, you're done for less than $100 per month.
On the other hand, it's easy that all those tools are combined in one platform, but honestly, I think $297 is a lot.
If you are absolutely not technical, I would choose Click Funnels and pick their Etison Plan. If you understand how to connect the different tools with Zapier, you're really much better off, financially speaking, by combining different software tools.
Unique Features of ClickFunnels
ClickFunnels is already unique in that it combines all the different tools you need to build sales funnels.
From a landing page builder perspective:
They have very easy, conversion-focused templates to fill in quickly, which is ideal for its target audience of non-technical entrepreneurs.
And direct automatic emails to people who sign-up through your landing page is also a great feature + the option to build follow-up email flows.
But next to that… they are not very special as a landing page software…
Some of the extra things they offer, which do make ClickFunnels interesting as a sales funnel builder:
Send emails from within ClickFunnels
Templates for webinar & upsell landing pages / funnels
Full CRM with an overview of your current customers
Payments options build-in
Run an affiliate program for your own product
👍 What I liked about ClickFunnels:
Due to their affiliate program, all of its users are continuously sharing knowledge, which gives an answer to any problem.
They're an all-in-one solution for full campaigns: you don't need any other tools next to ClickFunnels to build extensive sales funnels from start to finish.
👎 What I didn't like about ClickFunnels:
Honestly, I personally don't like their tone of voice, where they are being very sales-y and over the top like a motivational speaker.
Looking at it as a landing page builder, they are not very elegant and don't have many landing-page-specific features. On the other hand, they compensate this with all the extra salesfunnel-features.
My verdict on Click Funnels
ClickFunnels is the best landing page software for salesfunnels. They bring all the utilities you need in one package, which saves you time on integrations and learning to work with those different tools.
They have a 14-day free trial, so feel free to try it out 👇
Other Smaller Landing Page Builders
The following landing page builder softwares are also available on the market, but aren't that broadly used, don't offer very unique features or value proposition. Therefore I've listed them here below, for you to discover them on your own.
(It is a pretty long list so feel free to skip it with the table of content here at the side of this article.)
Might be interesting if you already have Hubspot, but otherwise, it is only available at the Marketing Professional package, which costs… $800 / month. Hubspot does have a lot of nice features, so if you use Hubspot in other places in a B2B sales context, it might be worth the money.
OptimizePress might be interesting for you if you run a membership site. This is OptimizePress's target audience, so they might be more interesting to you, than to me. Their prices start at
Landingi is almost the cheapest landing page software in this list. At $29 / month for unlimited everything, they are almost as cheap as Leadpages with $25. Might be an interesting alternative to Leadpages.
Lander App is a pretty unknown player in the field of landing page builders. Based on their features-page, they have all the features that competitors Instapage and Unbounce have, but I read a lot of negative reviews online if I look at Capterra and G2 with only 3/5 stars. I guess that at $16 / month it would be "too good to be true".
UCraft is mentioned online as one of the better free landing page creators, so look into it if you're looking for an alternative to Carrd.co.
Wishpond is a landing page software which has been on the market for a long time and it might still be interesting if you're thinking about building landing pages with quizzes.
With prices starting at $49 and practically all the features to be a premium landing page software, they could be a real competitor to Unbounce and Instapage, but sadly, they don't seem to be able to make a real fist against those.
Wix is one of the most used site builders worldwide and it might be interesting for you if you are about to build a new website.
Other Landing Page Builder Software
Conclusion
So you've just survived 27 different landing page builders, congrats! 🎉
As you'll see, there is no one best landing page builder software, but there is one perfect option for everyone.
I've made this flowchart below to help you find the right one for you and hopefully, this will give you the answer!
FAQ about choosing a Landing Page Builder
These are some of the questions I get asked a lot. I've decided to write them down here for everyone to read. Enjoy!
What's the best landing page builder for a startup?
If you have no money, I would advise Carrd or UCraft since they're free. If you do have some budget, you'll definitely get the most bang for your buck with Leadpages or have a look […]
What's the easiest landing page software if you're "non-technical"?
To be honest, almost all landing page builders nowadays are made to be easy to use. The ease now more depends on the target audience which a tool is made for: Is it made for experts or beginners? If it's made for experts, you'll get a lot of extra confusing features. The easiest-to-use landing page software would be Elementor, Unbounce or […]
How important is it to have A/B-testing as a feature?
It's not necessary to have. You could work your way around it, by pointing two identical ads to different pages. If you serve the ads 50/50, your traffic will also be split 50/50. On the other hand, A/B-testing your landing pages can give huge improvements on your ROAS if you have over 1000 visitors/month on a landing page.
What are the best FREE landing page builders?
The best free landing page software would be Carrd.co. Followed by UCraft and Elementor.
What are the best landing page builders/plug-ins for WordPress? 
If you're looking for a WordPress plug-in to easily build landing pages within WordPress, you should go for Elementor, Divi Builder or Thrive Themes Architect. If you're looking to build landing pages outside of WordPress, you can pick almost any tool from this list and it will most probably have a WordPress plugin to connect the two.
Do I need to take a course to understand how to work with these landing page creators?
No. Landing page builders have become so user-friendly nowadays that anybody can learn how to use them within a day of trying them.
Can you create a landing page without a website?
Yes, but you will need a domain name. Some landing page software offer a free (branded) domain within your package, like xxx.carrd.co or xxx.wix.com.
Comments & Questions from you👇
Feel free to ask anything you want!