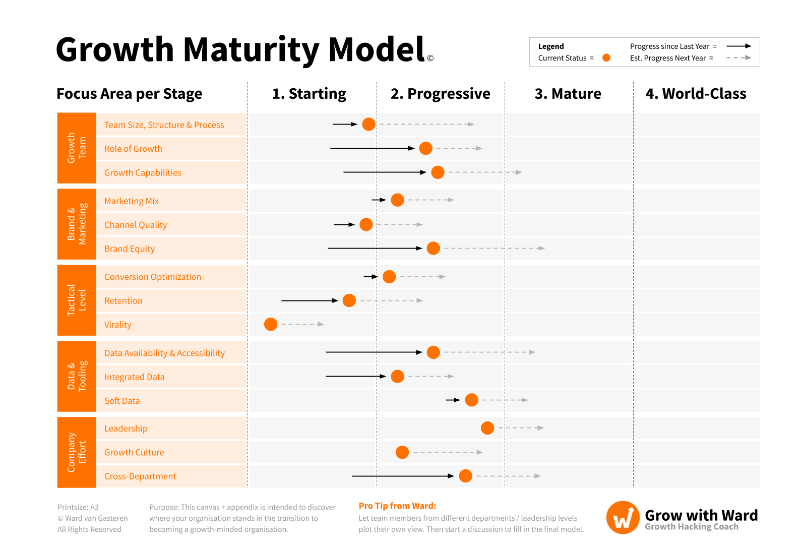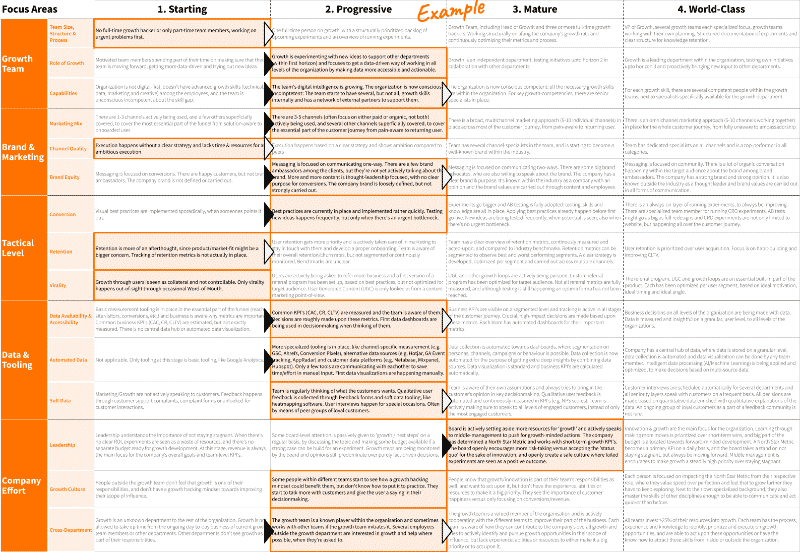 What is the Growth Maturity Model for?
The Growth Maturity Model is a template used by Growth Managers, CMOs, and business owners to determine how advanced the organization, their processes and their resources are in comparison to competitors. This way you can see in which areas the organization must grow, in order to enable further growth in the future, or at least grow more easily.
Does your management team need to improve their way of steering teams, to make sure that teams feel more comfortable with making big bets?
Is your data infrastructure lacking, which holds back your speed of uncovering new insights? 
Is your growth team the company's bottleneck by not being collaborating enough or not being able to work on enough experiments at the same time?
Uncover what is slowing down your growth and how to improve it. By knowing what the playing field looks like, you'll see the next steps that you need to take to unlock faster growth. 
This canvas is made to be printed out and helps you to fill in all the steps one-by-one, and see where you'd need to focus your efforts in improving your business growth.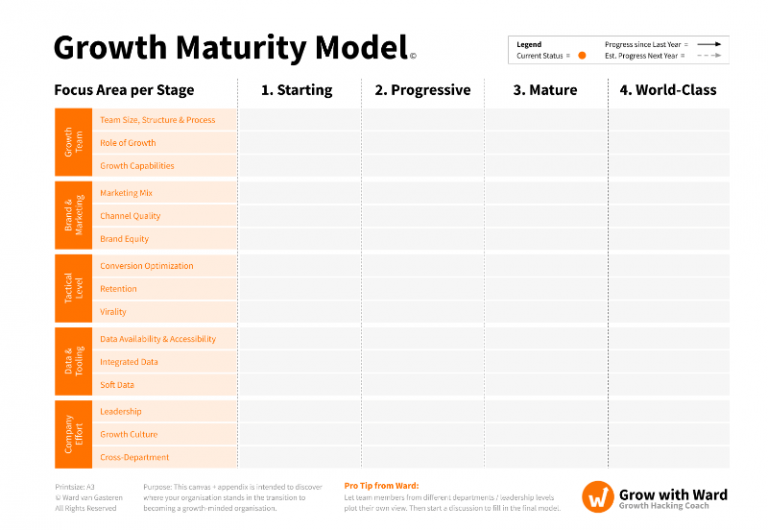 Step-by-step instructions
The Growth Maturity Model mostly speaks for itself, but here you have the steps for yourself.
Read through all the phases of every focus area (together)
Get your team and stakeholders together and read what each step would look like. Understand that it's only for the fastest-growing scale-ups to be in the 'World-Class' stage for anything. If your company has just adopted the growth hacking in the organisation since 1-2 years, it makes sense that you're in a 'Starting' or 'Progressive' stage at this moment.
First, decide what phase you're in right now
Start with picking which phase describes your current situation best in every row. Feel free to put your dot a bit to the left or right within a field to show more detail.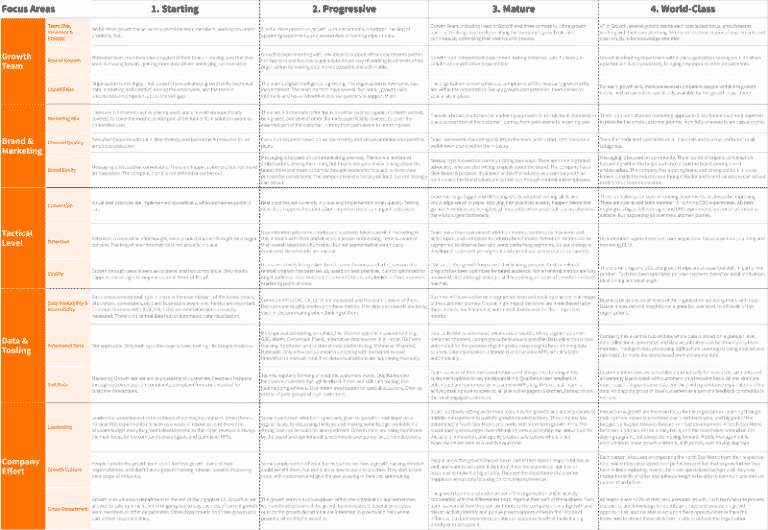 Visualize your progress since last year
Progress is important – for growth, but also for team spirit and to stakeholders. Draw an arrow from your situation one year ago towards your orange dot. It shows how good you're making progress.
Set your development goals for next year
Now look at each next stage and ask yourself if it would be a goal within reach, based on the differences between the next and the current stage. Now draw a new line to show where you're moving towards in the upcoming period. Feel free to look at quarters/years. In my experience, months would be over-ambitious for changing organisational behaviour. 
Lastly, turn your goals into weekly to do's
Write down the focus areas where you want to improve in, as headers. Below that, write down what the differences are between the stages, that you still need to check off. Lastly, turn those changes-to-be-made into realistic tasks to reach that goal.
That's it. Good luck!
Get your Maturity Model now
Let's growth hack you business
Ready to grow your business with growth marketing and datadriven experiments?
"I experienced the period that I worked with Ward as very pleasant. Ward is a professional expert who provides clear advise and explains different topics in a way that everyone can understand."
"Thanks to Ward's advice, our acquisition costs have been reduced by 73% and we now have 3,5x higher conversion rate. Ward has enthusiastically shared his knowledge."