Growth Hacking and Growth Marketing are no longer a 'hype'! Nowadays, almost all startups work with Growth Hackers and larger organizations have their own Growth Teams and a senior Head of Growth.
But … How do you learn Growth Hacking?
There are some full-time 3+ month traineeships or courses that you can take offline, but not everyone has the time for that.
Therefore, here is the list of the best online Growth Hacking courses in 2023.
In short: Best Growth Marketing Courses 2023
At this moment, these are the 5 best growth hacking courses:
1. CXL, Growth Marketing Degree – $999 – 🏆 Best in General 2023
2. GWW, 2023 Full Beginner Course – $299 – 🏆 Best for Beginners
3. Reforge, Growth Series – $1999/year – 🏆 Best Advanced
4. GrowClass, Full Certificate + Community – $1999
5. Growth Tribe, Growth Marketing Certificate – $995

What should you learn to become a Growth Hacker?
There is a lot of confusion about what growth hacking really is, causing a lot of smaller online training on public platforms such as Udemy, Skillshare and Coursera, to have a much lower quality.
Unfortunately, those courses are of very low quality. They earn their money by promising you to go 'viral' if you use their techniques or by advising you to use slightly illegal tactics. You will grow quickly, but it's certainly not profitable in the long run (or even more damaging!).
In another blog, I explain what the most important Growth Hacking skills are in 2023. The most important thing that you should learn, are the 'fundamental skills' for Growth Hackers: This involves understanding processes, models and mindset. Think of controlling the GROWS process, the Pirate Funnel and the Growth Hacking Mindset.
Thanks to the fundamental skills, you will soon be able to think for yourself instead of simply repeating the same structure over and over.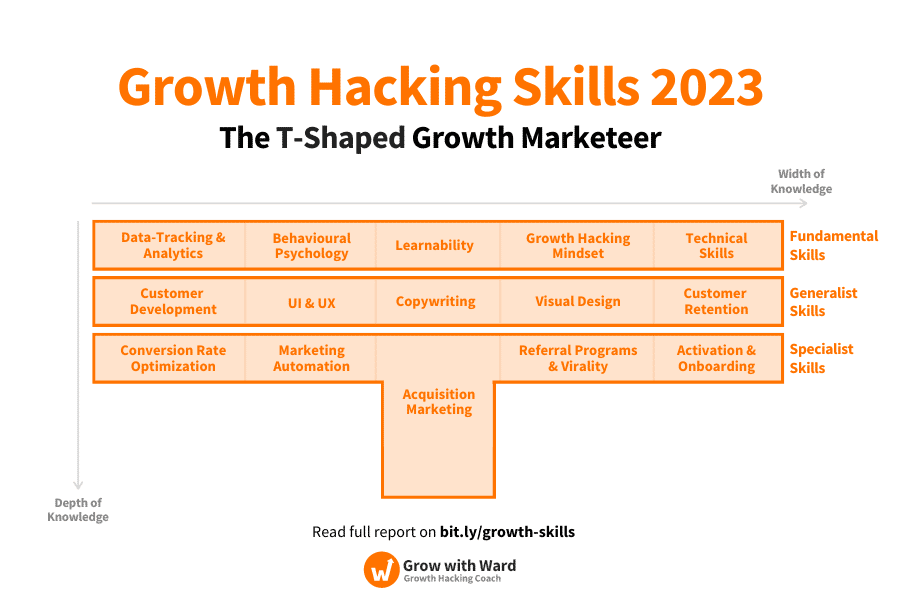 In addition, you should learn a basic set of skills (the General Skills), so that you can set up your own Growth Hacking experiments.
Below are the four online courses that teach you correctly how Growth Marketing works.
Top 5 Online Growth Hacking Courses
There are many online courses around Growth Hacking, but there are a few that really stand out, while many other online courses have jumped on the hype surrounding Growth Hacking for startups, causing a much lower quality.
Therefore, here are the four best online growth hacking courses, so you can really learn how Growth Hacking works:
All four of the above courses will teach you what growth hacking is and thus you will become a growth hacker. Although of course you still have to put it into practice 😉
Smaller Online Courses on Growth Hacking
To be complete, I wanted to list all online growth hacking courses.
But … the quality of these courses is not too high in my opinion, so I would definitely use your common sense before buying these courses.
Extra tips to learn Growth Hacking
Do you want to learn growth hacking? Then, of course, there are other places where you can learn more about growth hacking:
I spend a lot of time on my own Grow with Ward blog, where I try to explain all the topics within Growth Marketing as well as possible so that beginners can understand it from A to Z.
Also visit the GrowthHackers.com forum, where growth hackers from all over the world share articles.
And you will have to practice – practice – practice! Sorry
Good luck!
P.s. if you have any questions, you can always message me at my LinkedIn.
FAQ on Online Growth Hacking Classes